Gamma Meccanica S.p.A designs and manufactures lines for the regeneration of plastics.

Established in 1977, it consists today of three divisions, each one focused on a specific sector:
The extruded polystyrene division is dedicated to the creation of systems for the production of XPS boards;
The plastic division specializes in lines for the recycling of plastic material.
The constant technological and applicative research by the highly qualified staff, make Gamma Meccanica SpA one of the main players on the international market in the above mentioned field.
Gamma Meccanica designs and manufactures its systems in the plant in Bibbiano (RE – Italy) where the company can directly control both the development and the entire production process ensuring equipment of the highest quality. It is thanks to the trust of its customers that today Gamma Meccanica SpA is one of the leading producers in the industry.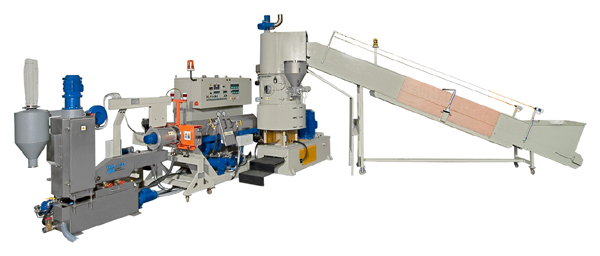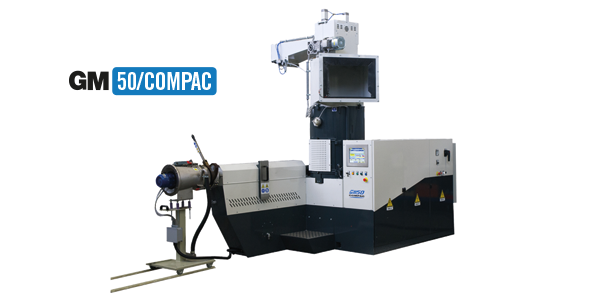 The COMPAC recycling line is designed to deal with special materials such as film, fibres, fabrics and yarns and consists in a feeder equipped with  shredder, extruder, screen changer and pelletizer.
The shredder "shreds" the material preparing it to be processed by the extruder. During shredding material is heated and densified so that any residual humidity present in the plastic material to be regenerated evaporates. Increasing the density of the material also ensures a constant flow through the extruder.
Recycling material is conveyed into the system by a conveyor belt, while film (on reels) is introduced by means of an unwinding system (or take-off unit).
For recycling of heavily printed thermoplastics materials Gamma Meccanica S.p.A. realized the new Tandem line.
The Tandem line ensures the recycling of heavily printed thermoplastics materials, or with humidity over  12% and contaminated.
The plant is composed of a COMPAC and two extruders arranged in "tandem".
The effectiveness of the plant for the recycling of heavily printed thermoplastics materials is guaranteed by an innovative and patented degassing system.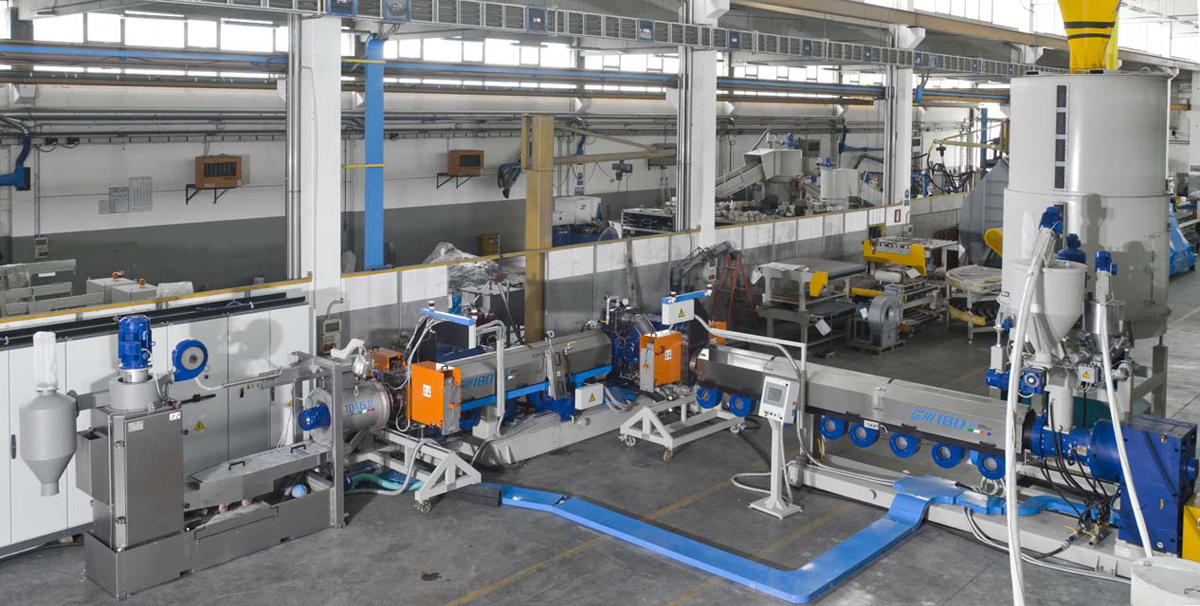 Two screen changers can be connected: one after the primary extruder that expels the contaminating element of greater size and the other after the secondary one that allows the elimination of particles from 100 μm or lower.
One main benefit of the Tandem line for the recycling of heavily printed thermoplastics materials is the degassing unit that has a very high efficiency to treat materials with over 100% of surface print.